Here is a fake lego funeral play set, complete with crying mourners, a coffin, and even a crematorium. Personally I think it is rather amusing, and a wonderful idea!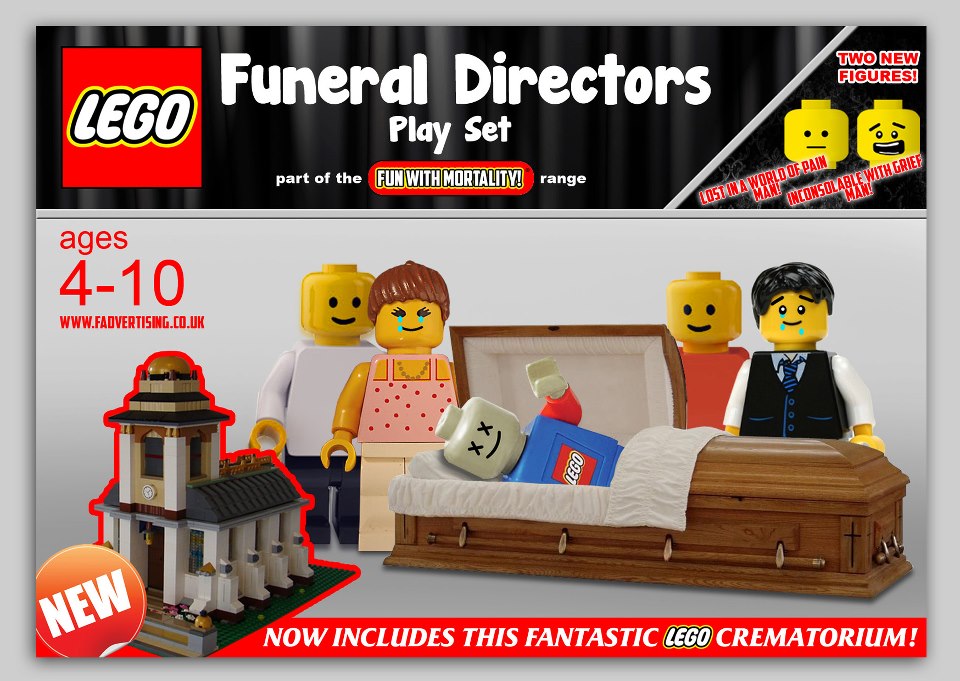 This has already made the rounds on certain circles (
such as coffin-talk
), so I thought it appropriate to discuss it. Despite the fact that it is fake it has potential, we are seeing more alternative and specific lego sets as lego becomes more popular. Take for example
this lego aircraft carrier
, or
this life size lego house built by James May
. There are numerous lego groups and exhibitions, even official ones like
Brickworks in Sydney
. It is not beyond reason or possibility for lego to make a certain number of funeral theme sets.
Some might think a lego themed set would be upsetting or inappropriate for the most part. A mixing of children's toys and death is rather touchy to say the least. But as the comments on
this "Confessions of a Funeral Director" post
show many people would like it. I asked a few friends who I know to be 'squeamish' about death and funerals. One is so 'squeamish' that she gets uncomfortable at seeing a photo of an empty hearse. Because it reminds her of funerals and death an the likes. Yet even she (and everyone I spoke with) really liked this idea and would buy it or compete for it.
Perhaps one day a funeral company will get in touch with lego and have a promotional event, I (and a few others I know) would certainly participate! It is a possibility, and there is a market, so why not?
An~~